my credit sucks….and part of it is my fault….part not….i have always been in low paying jobs…struggling…..had a nice house….then my now ex decided not to pay the mortgage and not tell me…..then i remarried to a man making 60,000 up a year driving a truck…..had another house, car payment, i stayed home with the kids (day care was more than i earned)…..oops….husband developed parkinson's disease…..can no longer drive…..so of course, i went back to work…..but what i could earn…..would not pay the bills…..lost the house, returned the car to the bank…..found a cheaper house that my salary could pay….end of story…now owe less than 10,000 on the house we are buying from a private person…..never been late on a house payment in 7 years…..have not had any utilites turned off….do not use credit at all……so my credit score is under 600….because the house is not reported.
The deficit is probably over 18 trillion dollars. People have to buy health insurance whether you have a job or not.. Some states have not seen minimum wage go up over 4 or more years ago. But we need more than minimum wage, we need living wage. Economy is moving up slowly. But getting job is stilll hard. Credit companies want to charge out fee. Having a credit card is a curse.
I understand where you're coming from, however you make it seem as though most of us are put in a situation where we are always asking to borrow money. I mean seriously, who likes owing someone else money. Most, if not all, credit card companies send out information about why you should obtain their credit cards and borrow their money. They also put the high spiked interest rates so that it takes longer to pay and collect more money over time. One of the main problems is the fact that you have to have an available credit balance that's 10,000 dollars plus in order to possibly get over 700, in which time would barley put you in the "good" credit bracket. The only way to obtain that is if you're making six figures if not that then the extremely high 5 figures. And at that point would there really be any need to have that type of credit balance. What's happening is their giving money to people who don't need it and calling it high risk to people who do. I currently make six figures but i refuse to get a lot of credit because of this ignorant outlook on these so called powerful companies.
But trying to pin down a specific number that means your credit score is "good" can be tricky. After all, there are lots of different credit scores that lenders use when trying to decide whether to grant you a loan. What one lender may view as a "good" score may fall into another lender's "fair" credit category. (Not to mention, you may score differently from model to model.)
This is the quickest way to deal with this problem. Contact the Consumer Financial Protection Bureau (CFPB) online or by phone. File a complaint by following the directions (doesn't take very long at all…). The CFPB will contact the company for you and they have to respond to the CFPB within 2 weeks and take action. If the company/credit bureau's have violated your rights, the CFPB will forward your complaint to the proper authorities and they may be in violation of the Fair Credit Reporting Act (FCRA).
The only time to ever consider carrying a balance month-to-month on a credit card is if you have a card that has an introductory offfer of zero percent APR for a given amount of time (usually 6-18 months). In this case, you can use it as an interest-free loan. For example, you could get a card that has zero APR for 12 months and put $1200 on it, knowing that you can easily afford to pay $100 per month. You diligently pay the $100 each month and, at the end of the year, it's completely paid off and you've paid absolutely no interest on it. This only works if you don't charge anything else to the card or, if you do, if you pay off whatever you charge in full each month, in addition to paying the $100. This isn't a good habit to get into, and it certainly isn't recommended for frivolous purchases, but it is a nice way to beat the banks at their own game.
Scores by VantageScore are also types of credit scores that are commonly used by lenders. The VantageScore was developed by the 3 major credit bureaus including Experian, Equifax, and TransUnion. The latest VantageScore 3.0 model uses a range between 300 and 850. A VantageScore above 700 is generally considered to be good, while above 750 is considered to be excellent.
When considering complaint information, please take into account the company's size and volume of transactions, and understand that the nature of complaints and a firm's responses to them are often more important than the number of complaints.
Payment History: Paying your credit card bills and making loan payments on time will positively impact your credit score. Missing payments, making late payments, or paying less than the minimum payment can hurt your credit.
Credit scoring is a way to keep people in debt, in my opinion. To me the entire scoring system is a bunch of malarkey. I pay all my bills on time but can't get my score above 620, even though I've paid off one car and am paying on another. The same explanation keeps occuring, that my ratio to balances are too high even though I've paid off one credit card and paid the other two down to less than $100. The entire system is rigged against most low to middle income people. Just my opinion.
I have a 669 credit score from Equifax, never can get thru to them & has been going down & was sent to me by my insurance co. USAA in Feb. but will not show up very well even though I make all payments. They do show some mistakes, bad ones that I never had anything to do with but is next to impossible to get thru to. Been going down for about 6 yrs. In the Natural gas industry & spot price of gas is at about a 20 yr. low plus had to sell some expensive , paid for luxury property because housing bust hit at the same time along with expenses going up & doubling of property taxes.. Grew up with excellent credit but sinking. Plus drilled 2 dry holes, just trying to keep my income at a good healthy level. At the same time of everything else.Not much hope. I'm 68 now & the ups * downs have been going on for many years.
Never borrow what you can pay back with a unemployment check. And if it's not a emergency. Save for it. Don't charge. You might not get your flat panel TV today but when you do it will actually cost you less so you can buy a bigger one. The banks broke your country by manipulating you into to having it now. So let's break the banks by putting your cash in your pocket instead of thier pockets.
Aston Carter is a distinguished global provider of recruitment and staffing services to companies requiring highly specialized business professionals. As a Best of Staffing® Client and Talent leader, Aston Carter has an unrivaled commitment to delivering f…
We want to hear from you and encourage a lively discussion among our users. Please help us keep our site clean and safe by following our posting guidelines, and avoid disclosing personal or sensitive information such as bank account or phone numbers. Any comments posted under NerdWallet's official account are not reviewed or endorsed by representatives of financial institutions affiliated with the reviewed products, unless explicitly stated otherwise.
As a member of Internal Audit Services, the incumbent assists with an independent, objective, assurance and advisory activity designed to add value to governance and improve operations. She/he will assist by bringing a systematic, disciplined approach to e…
Carrying debt is a new(ish) idea and the first credit card came out in 1950. Before that began to take hold having debt was a bad thing. Now being irresponsible holding debt and never clearing up seems to get you the best shot at for being qualified for big purchases.
Pavelka and his wife weren't always so well off. He grew up in Cleveland, off Buckeye Road, raised with his brother by his single mother after his father died when he was 1. The three lived in the upstairs of a house owned by his grandfather, surviving on Social Security and VA death benefits. His wife, Helga, an immigrant from Austria, had a similarly tight upbringing.
Have you obtained your free credit score from Credit.com? If so what are each of the five grades? Also if you haven't reviewed your credit reports yet, you may want to do that and dispute anything that is inaccurate or incomplete. Any accounts that aren't confirmed by the source must be deleted.
I don't think that I would add your son as an authorized user. That means that your bankruptcy and foreclosure will become his. He will inherit your negative credit. He can just get a $300 secured credit card and start from there…
One difference would be is that they give you different types of credit — revolving and installment credit. Once the loan is paid off, you also no longer have an active credit account. Assuming the secured card is paid responsibly and the balance is kept low (relative to limit), you should be able to qualify for an unsecured card reasonably soon.
The highest credit score you can have is 850. That's the maximum credit score used by all of the most popular credit-scoring models today. You can learn more about the highest score you can get here: https://wallethub.com/edu/best-credit-score/39023/.
Use CreditCards.com's CardMatch tool to get prequalified for an offer that suits you. This will also help you avoid applying for cards that may reject you – which will have a negative impact on your score.
The credit bureaus Experian, Equifax, and Transunion, are required to investigate any disputes that are submitted due to the Fair Credit Reporting Act. However, if they are too quick with the investigation, then the errors may still be on the credit report and may still read as accurate.
I dated a girl many years ago that had 3 maxed out cards and over 12k in debt and every month she would get a new card in the mail. At the time I owned a business that had two 50k lines of credit, owned 2 cars, and received a small inheritance. I personally avoided the use of debt and credit. When I went to get a credit card (after years of personally avoiding them) I was completely denied because I didn't have enough history. That is when I realized the game is about taking more then you are giving and promoting irresponsibility. Bad credit is better then no credit…
Personally, I think having a great credit score is important in early mid-life, before the first mortgage, but if you're older, say, and you're able to buy cars, or even property, outright, from savings, then you've won the game!
Experian has the Plus Score for educational use only with a score range between 330 and 830. Equifax has the Equifax Credit Score of between 280 and 850. TransUnion's New Account Score in the website Credit Karma is between 300 and 850, and Experian National Equivalency Score in Credit Sesame and Credit.com ranges from 360 to 840. CreditXpert offers a simulation score to estimate the impact various actions on a score range of 350 to 850. Several websites (TransUnion, Equifax, Credit Karma, Credit Sesame etc.) offer different credit scores to consumers.
But that doesn't mean you should apply for every line of credit you're offered. Multiple inquiries from lenders for your credit reports in a short period can trim your score, especially if you don't have many credit accounts or you have a short credit history. Be especially careful when car shopping because Detweiler has heard lots of complaints from consumers whose scores dropped when they had several dealers pulling their reports for financing options. Rather than let a dealer shop your credit, choose a lender you like beforehand and get pre-approved for a loan.
Never reported? That's just not right!!! I'm going to try and keep a car payment for a while longer. It's sure not like your cc's where you can pay them in full. But will give them what they want to see. 30 years old and still on your credit! Sounds like you need to dispute it. I would keep disputing with the credit agency over and over again. This is FLBiker's wife. I found a $67.00 collection that we didn't owe & had a time trying to remove it. I just kept on disputing it until they finally realized I wasn't going away & I wanted it removed! Never give up! You will get out of debt.
Companies like Bear Sterns, Lehman brothers, Bradford & Bingley, Loyds all received AAA credit ratings two months before they all went bankrupt – which then led to the global meltdown. The "Credit Score" system is a scam, it was created by the banking industry aka wealthy elite, to exploit the people who actually DO work; which allows the wealthy to actually do nothing and play their unscrupulous games with all of our hard earned money. I worked in the banking industry for years, these are NOT nice people. The best advice is: Avoid using the banking system as much as you can. Pay with cash or debit if it's necessary. In other words… don't let the "credit rating system" control you – it is the way the banks get the upper hand, and steal more of you hard earned money. They steal enough already, don't let them take more.
Experian states that 30% of Americans have lower than a 601, placing them in the "bad" rating category. In this situation, you might want to consider monitoring your credit score as you begin to make financial improvements.
3 Trilegiant Corporation, Trilegiant Insurance Services, Inc., and Alliance Marketing Association and their credit information subcontractors shall not have any liability for the accuracy of the information contained in the credit reports, credit scores, Credit Alert® reports or other reports which you receive in connection with the PrivacyGuard service, including any liability for damages, direct or indirect, consequential or incidental.
Every person with a Swedish national identification number must register a valid address, even if living abroad, since sent letters are considered to have been delivered to that person once they reach the registered address. As an example, Swedish astronaut Christer Fuglesang got a Betalningsanmärkning since a car he had ordered, and therefore owned, passed a toll station for the Stockholm congestion tax. At the time, he was living in the USA training for his first Space Shuttle mission and had an old invalid address registered for the car. Letters with payment requests did not reach him on time. The case was appealed and retracted, but the non-payment record remained for three years since it could not be retracted according to the law.[19]
When determining if you are a good candidate, a lender will look at your credit scores. Most lenders use FICO scores, but some lenders are starting to look at VantageScores as well to further determine your future financial risk if they were to extend an offer of credit to you.
Tom Pavelka, an assistant district director at the Department of Labor's Office of Workers' Compensation in Cleveland, has no doubt that some of his ability to manage his finances easily stems from the fact that the couple have no children — just Freddie, a cat from a shelter. They can charge a couple of thousand dollars on a credit card and easily pay it off the next month.
Wow, when i bought my house back in 99, over 600 was a decent credit score…. Sitting at 700 only because of my wife's due diligence I thought that I was KING of the credit score… After paying my house off 19 years early JP Morgan-Chase thought it would be funny to place a foreclosure and bankruptcy upon my credit report. I am NOT kidding. The worst thing I ever did regarding my home loan was to be maybe a week late with a payment. I only noticed this egregious error after agreeing to co-sign a loan for my brother-in-law. I am still thinking of suing. A year later after many phone calls and one where I asked for a manager telling her she was being recorded and That I was being filmed for a Michael Moore movie did i finally get results. So where was I? Well it's 2014 the kids are getting older and my wife wants a new kitchen and siding on the house. Me? I'd rather live in the woods in a trailer. Anyway, she is my queen and i am her fool so she gets what she wants. Securing 30k while living in a house wort 200k should be no problem, or so I thought. With under 7k in debt besides my wife's auto loan I figured that I would be the shot caller on this loan. Yes, the banks wanted to give but they wanted to give way more than the 30k i was seeking. They also wanted 15 year agreements… Things went south quick and i headed to the SAFE HAVEN of a CREDIT UNION. Nope! I've been done with banks for years and NOW—– I plan on keeping it that way. At the credit union I was a PERSON. I actually knew the loan officer and a few board members. Not that this insured my loan but it gave me great confidence that my voice would be heard even with the mathematical formulas that decide your credit score and ones ability to re-pay loans. We all know what happens when banks lend in a predatory manner… Think 2008…. The credit union is not in the business of loosing money nor is it in the business of making your life a living hell like Jp Morgan did for me.
If you are under 21, you must have a cosigner or be able to demonstrate that you have an adequate source of income to pay back any credit that is extended. With responsible usage, a parent cosigning a credit card (or adding you as an authorized user to one of their accounts) is a great way to help establish a positive credit history.
My daughter has been paying ccs on time for the past 16 months, after a period of being irresponsible. Only 1 company reduced her exorbitant interest rate though ALL stated they'd do that if she paid on time for 6 months. She's been at her job for 6 years & just got a new car (she traded in her older car to the same company, so they 'ignored' her 'average' FICO). [Also, it's a smaller car, so smaller monthly payment.] I'd love her to get a
According to the Austrian Data Protection Act, consumers must opt-in for the use of their private data for any purpose. Consumers can also withhold permission to use the data later, making illegal any further distribution or use of the collected data.[5] Consumers also have the right to receive a free copy of all data held by credit bureaus once a year.[6] Wrong or unlawfully collected data must be deleted or corrected.[7]
Common ways that consumers improve their credit ratings are by contacting the major credit bureaus (Experian, Equifax and TransUnion) and asking them to remove reporting errors, paying down credit card balances and paying off accounts that have been placed in collections. Another tactic is to ask for an increased credit limit on your credit cards. For people who carry credit card balances, an increased credit limit lowers the credit-to-debt ratio, a key factor in credit scoring.
It's not easy to just 'quit living paycheck to paycheck'. Most people that do don't have a choice because they don't have the money to do otherwise. Granted, they are unlikely to be a safe bet to loan money to, but that's the way it is. It is far too easy to talk about people just doing things differently when you don't live the same way as they do. Paycheck to paycheck is *the* reality for a lot of people.
If you want to buy a car, you won't get the best rates, but dealerships are accustomed to credit-challenged customers, says NerdWallet auto writer Phil Reed. Chances are you can get some wheels if you have enough income to make payments. "Auto loans are different, with a bit more flexibility than other loans, mainly because the car is the collateral," Reed said. His advice: Be patient and compare offers. Loans targeted at those with subprime credit can be unreasonably costly.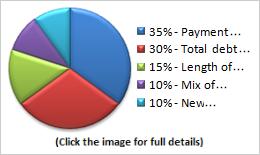 average credit score
credit management
highest credit score
As far as the "age of credit" factor goes, the only thing you could possibly do there is to piggyback on someone else's card with a long credit history, but even then it's not certain that you'd see an increase (especially if that person wasn't a relative at your same address). And that strategy has risks – if they pay late your credit can suffer.
Your credit score is one of the most important determining factors for your future. It could be the one thing that determines whether you are able to get a loan for a new home or keep renting. It can impact how high the interest rates on your car, home, and student loans are. The better your credit score is, the less you'll have to pay for borrowing money.
Pride cometh before a fall, my dear. I know. I was like you at one time and never ever would I've thought my credit would sink to what it is today. Today, I am a more humble person as I work to re-build my credit.